The PPT recipe for a successful BBQ!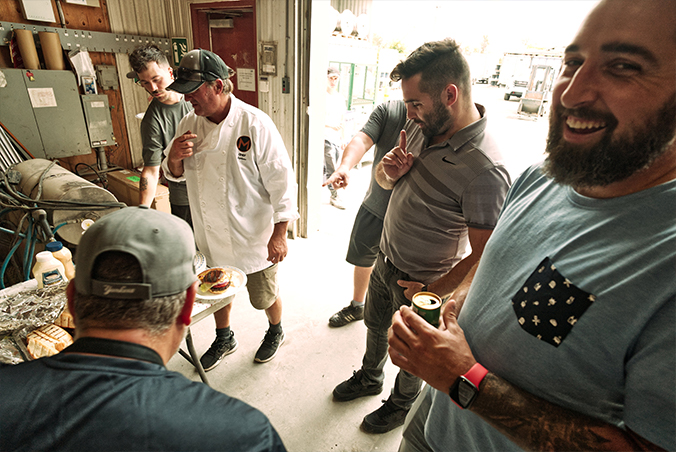 PPT à trouver une façon originale de fêter le tout début de la fin de la Covid. Oui, on est optimiste, mais regarde où ça nous mène depuis 2015 l'optimisme… 😉 
Team explosif
Le cocktail est Molotov quand vous mélangez des clowns de l'entrepôt, des filles coquettes de l'administration et des gars de chantiers épuisés dans une fumée de BBQ bien épaisse !! Chaque vendredi, nous, on close la semaine tous ensemble, on aime faire nos bilans, mais de façon officieuse et dans une ambiance plus détendue que d'habitude. On en profite aussi pour laisser tomber nos masques de collègues et laisser place à nos expressions d'amitié, parce que oui, on est une belle gang qui s'apprécie plus que 40h/semaine seulement.
Qu'est ce que tu mets d'dans ?  
Tout est en place sur la table à condiments pour que tu jettes ton dévolue dans ton assiette. On ne te juge pas si tu manges pour 3, parce qu'on sait que tu travailles tout autant. Par exemple, ça se peut qu'on te juge si tu ne mets pas de cornichons dans ton burger ou si tu mets du fromage en grains dans ton hotdog.
Us, competitive?
The chef of the week will be happy to cook you a vegan dumpling if that's your lifestyle, or if it's not, but you teased it a little too much this week. I don't know how it started or why, but the up-and-coming cooks have made it their mission to surprise us every Friday with either an accessory, a special ingredient or even a (sometimes really) special outfit. If you prefer not to venture behind the grill, you can simply compete to earn the title of "the guy who makes the most appetizing burger".
So yes, at least once a week, we allow ourselves to let go a little at dinner time. Besides, it's letting go that makes our BBQs, the BBQ-PPT.